The index as determened by The Heritage Foundation
Tunisia's economic freedom score is 58.5, making its economy the 100th freest in the 2011 Index. Its score is 0.5 point lower than last year, reflecting declines in four of the 10 economic freedoms. Tunisia is ranked 12th out of 17 countries in the Middle East/North Africa region, and its overall score is just below the world average.
Tunisia has implemented substantial structural reforms in recent years, boosting competitiveness and reducing poverty. Significant progress has been made in lowering barriers to foreign investment, promoting a growing entrepreneurial sector. Sound supervision and regulation of the financial sector have improved access to credit, while on­going privatization of state-owned enterprises is increasing competitiveness. Tunisia's sound regulatory environment and macroeconomic stability also contribute to dynamism within the private sector.
Even deeper reforms will be required to maintain Tunisia's long-term growth prospects. Tunisia's closed trade regime and rigid labor markets mute innovative entrepreneurial activity. The judicial system is vulnerable to political interference, which adversely affects economic growth, and significant levels of corruption add costs and uncertainty to transactions.
Tunisia has pursued a moderate, non-aligned foreign policy since gaining independence from France in 1956. It has had only two presidents in 50 years, and progress toward genuine democracy and greater civil liberties has been slow. Gradual economic reforms undertaken by President Zine al-Abidine Ben Ali since the early 1990s include privatization of some state-owned firms, simplification of the tax code, and greater fiscal restraint. Ben Ali was elected to a fifth consecutive term in October 2009. Tunisia's economy includes significant agricultural, mining, energy, tourism, and manufacturing sectors. A 1998 association agreement with the European Union has helped to create jobs and modernize the economy, which has also benefited from expanded trade and tourism. A slowdown in the EU has depressed demand for Tunisian-made goods.
80.2 No Change
Along with privatization of more than 200 state-owned enterprises over the past two decades, Tunisia has adopted structural reforms and enhanced its entrepreneurial climate. Procedures for launching and conducting a business are not time-consuming, and bankruptcy proceedings are straightforward.
Charts: the blue line for Tunisia the black means the average of the world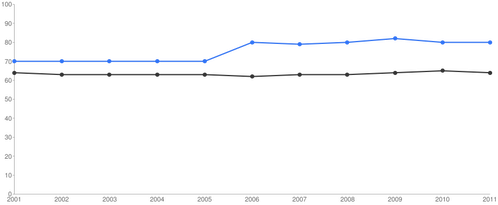 53.5 No Change
Tunisia's weighted average tariff rate was 18.3 percent in 2006. Import restrictions, some prohibitively high tariffs, import fees, import licensing requirements, export-promotion programs, and inconsistent customs administration add to the cost of trade. Ten points were deducted from Tunisia's trade freedom score to account for non-tariff barriers.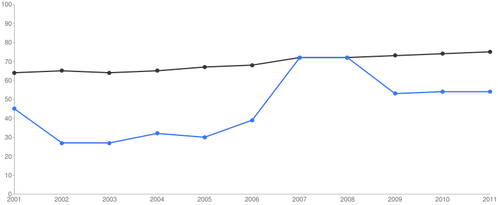 73.7-0.7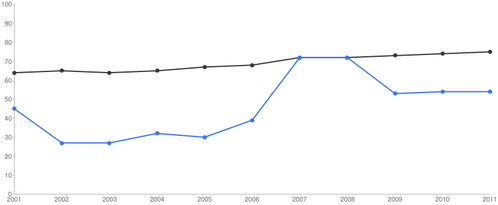 Tunisia has a relatively high income tax and a moderate corporate tax. The top income tax rate is 35 percent, and the top corporate tax rate is 30 percent. A special tax scheme applies to financial institutions and the hydrocarbons sector. Other taxes include a value-added tax (VAT), a property transfer tax, an inheritance tax, and a vehicle tax. In the most recent year, overall tax revenue as a percentage of GDP was 22.4 percent.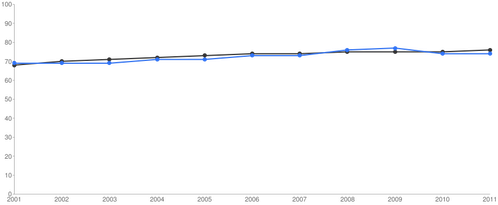 77.6-0.9
In the most recent year, total government expenditures, including consumption and transfer payments, held steady at 27.3 percent of GDP. The state-owned mobile and fixed-line telephone enterprise is slated for sale to a French telecommunications company.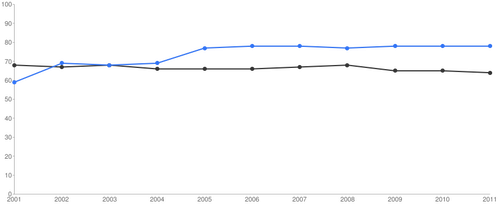 77.3+0.8
Inflation has been moderate, averaging 4 percent between 2007 and 2009. The government can set prices for subsidized goods and influences prices through regulation, subsidies, and state-owned utilities and enterprises. Ten points were deducted from Tunisia's monetary freedom score to account for measures that distort domestic prices.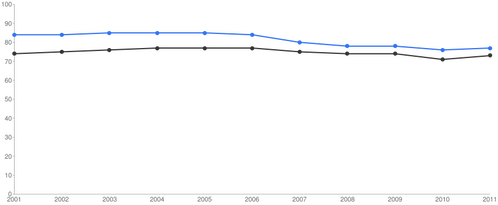 35.0 No Change
Tunisia restricts foreign investment in some sectors to minimize the impact on domestic competitors. Foreign investment is screened, and majority ownership of companies by foreign investors is not allowed without government approval. In general, domestic trading can be carried out only by a company in which the majority of the share capital is held by Tunisians and management is Tunisian. Bureaucratic procedures are cumbersome and inconsistent, the ability to retain foreign labor is restricted, and the courts are susceptible to political pressure. Residents and non-residents may hold foreign exchange accounts, subject to restrictions and approval. There are some restrictions on capital transactions, payments, and transfers. Foreigners may not own agricultural land.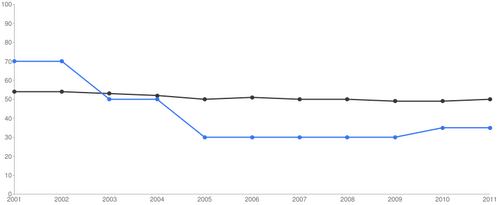 30.0 No Change
Tunisia's financial sector has been relatively unaffected by the global financial crisis, and the stock exchange has continued to grow. Financial supervision and regulation have been brought up to international standards. The government has made progress in privatizing and consolidating a number of banks, although it maintains the controlling shares in half of Tunisia's 20 banks, including the three largest. Getting credit remains relatively expensive due to a fragmented banking sector. Several measures have been taken in an effort to modernize and improve the efficiency of the banking system. Revisions in banking laws included strengthening the rules on bank licensing and increasing the minimum capital requirement. Despite some recent progress, non-performing loans still account for over 15 percent of total loans. Capital markets are small and dominated by government securities. The stock exchange, managed by the government-run Financial Market Council, has become more active with increased foreign participation.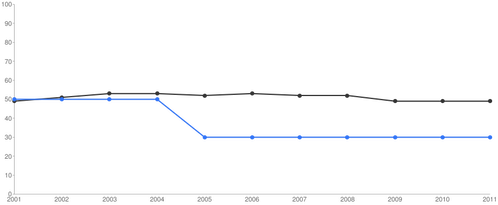 50.0 No Change
The executive branch is the supreme arbiter of events in the cabinet, government, judiciary, and military. Commercial cases take a long time to resolve, and legal procedures are complex. Tunisia's intellectual property rights law is designed to meet the World Trade Organization's Trade-Related Aspects of Intellectual Property Rights (TRIPS) minimum standards. Customs agents do not investigate copyright violations without a complaint by the copyright holder. Pirated print, audio, and video media products are sold openly. Illegal copying of software, CDs, and DVDs is widespread.
42.0 -2.0
Corruption is perceived as significant. Tunisia ranks 65th out of 180 countries in Transparency International's Corruption Perceptions Index for 2009. Corruption is less pervasive than in neighboring countries. Unfair practices and corruption among prospective local partners reportedly can delay or block specific investment proposals, and cronyism and influence peddling can affect investment decisions.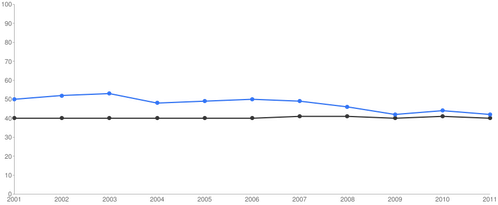 65.7-1.7
Tunisia's labor market is evolving, but flexibility is undermined by the outmoded and restrictive labor code. The non-salary cost of employing a worker is high, and dismissing an employee is difficult.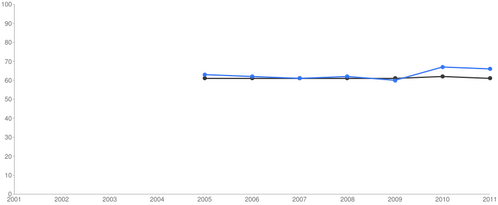 Pour être informé des derniers articles, inscrivez vous :